Frequently Asked Questions
How long does it take to complete a course?
You may proceed at your own pace. Finish the course in one long day, or spread it out over several days or weeks.
Each session contains a video which lasts about 1 hour.
You must complete the session video before you can advance to the next session.
Once all sessions have been completed you will have a test to complete.
May I watch each lesson more than once? Can I go back and review previous lessons even though I have moved on to a subsequent lesson within that series?
Yes. You may go back and view previous lessons as often as you like, even after completing the course.
Will I be required to tune into live video instruction or may I view the classes at my convenience in the evening since I work a full-time job?
All lesson videos are pre-recorded and available to watch at anytime. You set your own pace.
Is there a printed version of the student notebook that can be ordered and shipped?
Currently, there is not a printed version of the student notebook that can be ordered and shipped. You can view and print the PDF version of the notebook that is included with the course.
How do I receive the course? Is it a download I can return to for reference later?
Billye Brim Bible Institute is an online course. You must be connected to the internet to access the course lessons and videos. The videos are not downloadable, but you may return to the online course as often as you wish to view the videos and lessons.
Sorry, no. Course tuition is payable in-full prior to accessing the online sessions.
What type of payment do you accept?
Payment must be made by credit card, debit card, or prepaid debit card. Visa, MasterCard, American Express, and Discover are accepted.
Do I need to login before I purchase a course?
You do not need to login prior to purchasing a course. Simply select the "Purchase This Course" button while viewing the course page and complete the checkout procedure.
Previous Course Purchasers
During the checkout process you will be prompted to login if you have previously purchased a course.
First-Time Students
If you are a first-time student, the checkout process will include setting up an account and selecting a password.
After completing the checkout payment process you will be automatically logged in.
What additional courses are scheduled?
The following courses are scheduled. These classes must be taken in order.
Is Billye Brim Bible Institute accredited?
What's the difference between the Standard Student Enrollment and the College Credit Student Enrollment?
The course and test is identical for the Standard Student and the College Credit Student enrollments. Those who choose the course for College Credit will be issued college credits for their successful completion of the course.
How many credits does this course have? How many credits do you need to graduate?
The first 4 courses will be offered at 2 college credits each. Future courses will be 3 credits. It takes 60 credits for an Associate degree in Biblical Studies, which is the first degree we will be offering.
Can I upgrade to College Credit after I have purchased the Standard Student Enrollment?
Do you plan to offer a Bachelor's Degree or even a Master's Degree in the future?
Currently we are offering an Associates Degree in Biblical Studies. The major emphasis of our school is Eschatology and Biblical Prophecy. This school is unique in its scope, and to receive full benefit of the teaching, the required courses need to be taken.
Most likely as we grow we will add a Bachelor's program and a Master's program.
I have graduated from another two year Bible School and am wondering if you will be accepting transcripts in the future.
Any acceptance of transfer credits will need to be approved by a review committee, and will be limited to a Bachelor's or Master's program.
I am having trouble signing into the online school to take the course I purchased.
Please go online to http://billyebrimbibleinstitute.com/
Click the LOGIN link in the upper right corner.
Enter your username or email address.
Enter your password. ( If you don't remember your password, use the "Lost your password?" link to set a new password. )
Upon logging in you will land on your My Courses page.
Click the large RESUME COURSE button and you will be taken to the next session of your course.
I'm having trouble getting the videos to stream without hanging up or buffering. What is causing this?
The trouble is most likely your internet speed, or lack thereof. Typically, you need a minimum download speed of 3 Megabits per second to watch a single video stream in clear, standard definition.
To check your internet speed you can visit https://www.speedtest.net/ and check the results.
If your download stream is less than 3 MBPS it may be time to consider an upgrade in your internet speed from your service provider, or you may also try visiting a local coffee shop to take advantage of their wifi service. (Just an option.)
I'm having trouble finding the videos.
On each session's page you should see the video right below the title and course progress bar. (See screenshot below.)
Are you using a mobile phone while viewing the course? The online school is optimized for all devices including mobile phones, but there is the possibility that your cell phone service provider is restricting access because of data limits or other restrictions.
To test this, please try logging in and viewing the course content on a desktop or laptop that is NOT using a cellular connection.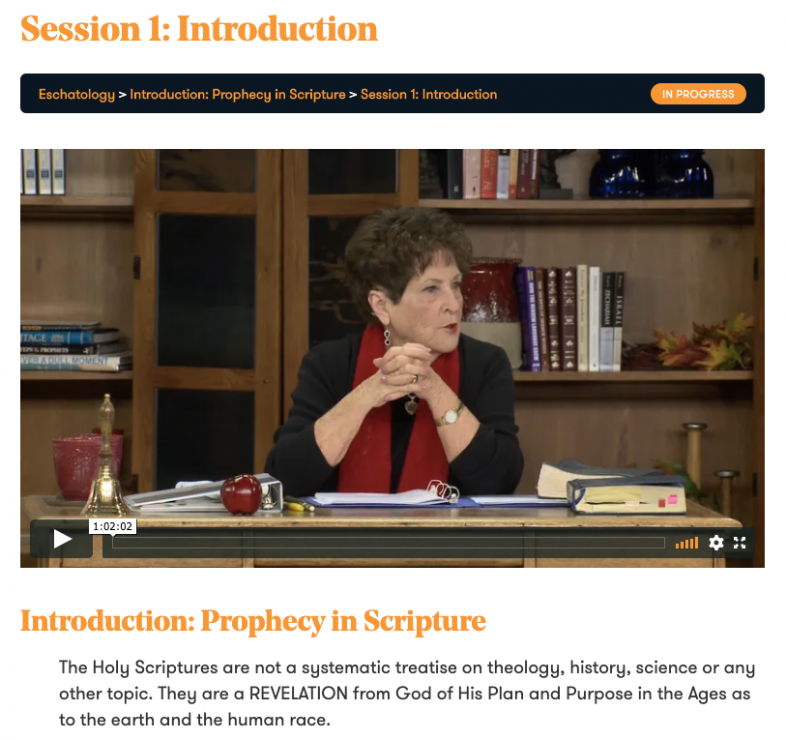 After completing a lesson I am unable to access the next lessons.
After finishing a lesson you need to use the MARK COMPLETE button located at the bottom of each session to advance to the next session.
Can you mail my certificate? I'm not sure how to print it.
Sorry, we are not able to mail physical certificates. But don't worry, your certificate has no time limit and will be available anytime in the future should you wish to print it.
Once you have completed the course quiz,  you can view the completion certificate PDF in a browser window.
To print from a browser, go to File-->Print in your menu bar to print the page (PDF) you are viewing. You can also go to File-->Save Page as... and save the page as a PDF to your computer.
How do I review the questions on a quiz?
PLEASE NOTE:
Upon finishing a quiz, it is important to take the following step BEFORE you proceed further if you wish to review your quiz results.
Once you have left the exam results page it is currently not possible to retrieve past exams for analysis.
You may review the questions on a quiz immediately upon finishing the quiz.
Simply select the LARGE RED button that reads, "View Questions" to see a rundown of correct and incorrect answers. (See Final Exam screenshot below for an example of what to look for.)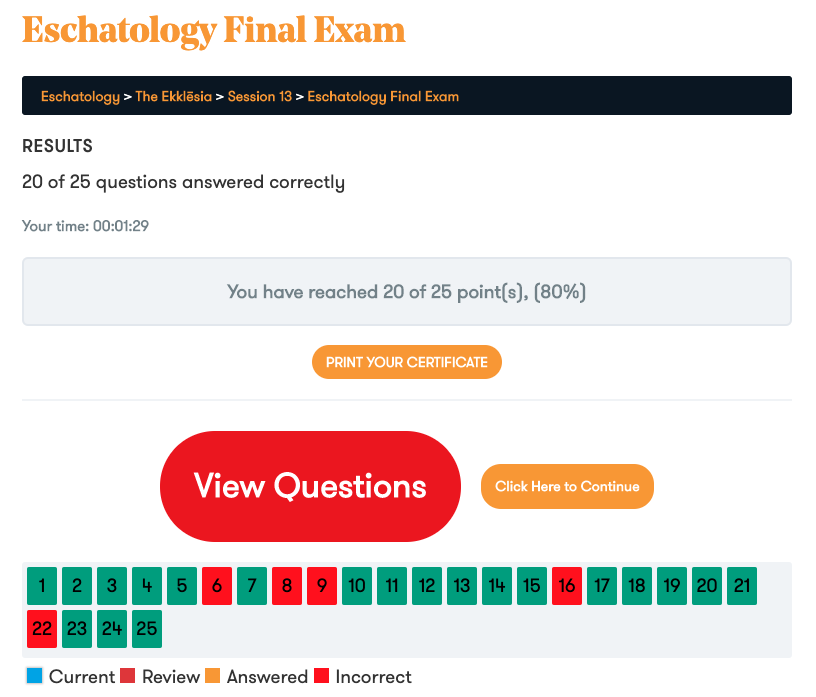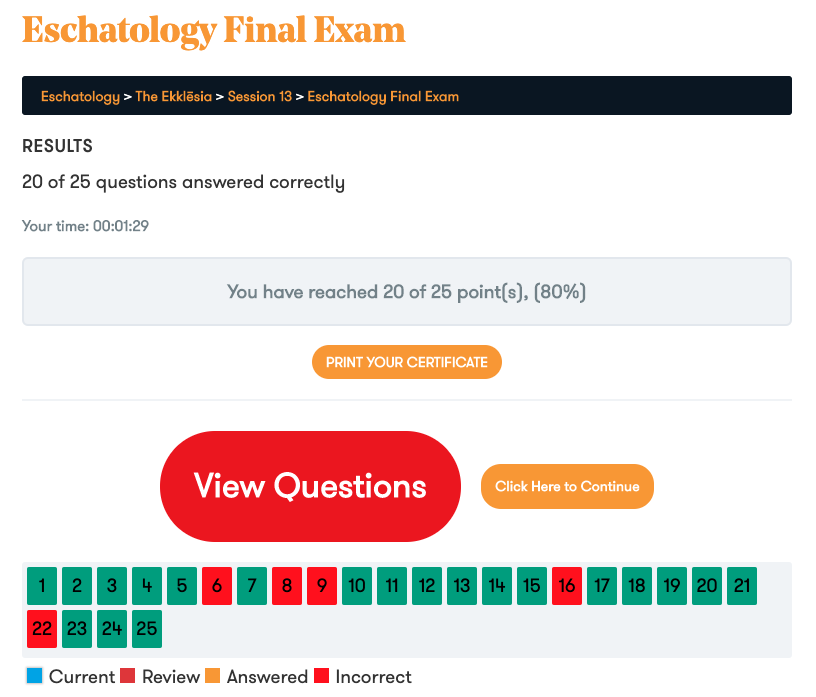 ---
Still Have Questions?
Select the HELP button in the lower right corner for fastest response.
You may also use our support contact form to let us know.