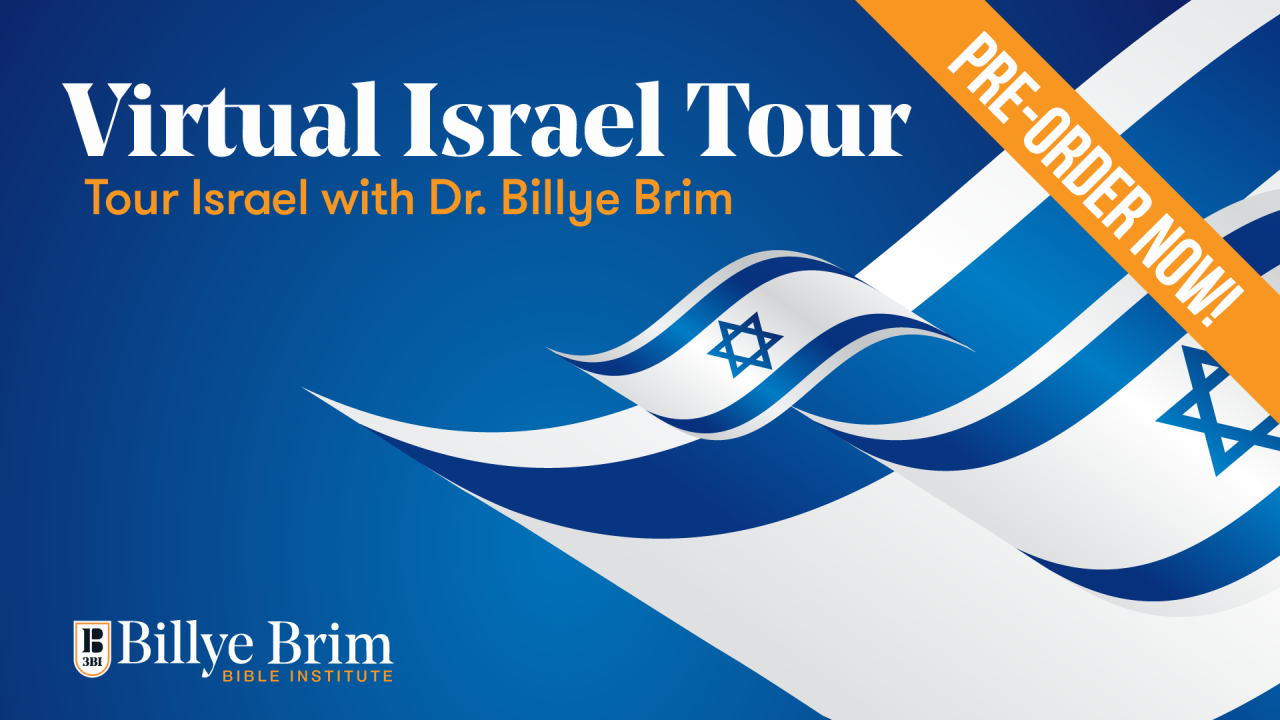 Now Available for Pre-Order!
Dr. Billye Brim's 3BI Virtual Israel Tour
See Israel with Dr. Billye Brim's 3BI Virtual Israel Tour. With Dr. Brim's 40+ years of experience studying and learning in the land (Eretz Israel) and the people (Am Israel) you will get to encounter this land in a first-class video production, including:
Experiencing our Lord's earthly life and ministry with insight to His eternal ministry on earth in Israel.
Dr. Billye Brim teachings that make biblical prophecies come alive in light of current events.
Exciting insights of key places that Chip Brim has a special anointing to bring to everyday life.
A personal and very informative touch in understanding the Bible with eastern eyes by Guy, everyones favorite Jewish guide.
Download and print Student Notebook to follow the exciting journey.
No pre-requisite course required to participate in this Virtual Israel Tour course.
Join us together as we see Israel, God's covenant land and our Lord's Eternal Homeland!
Special Pre-Order Discount—Order now and save 10%!
Pre-order this course now and save 10% off the total. We'll send you notification as soon as the Virtual Israel Tour becomes available. You'll be among the first to experience it!
---
STANDARD STUDENT ENROLLMENT
Normally $250 | Pre-order Sale Price: $225
COLLEGE CREDIT STUDENT ENROLLMENT
Normally $300 | Pre-order Sale Price: $270
---
Purchase this Course